The Gits (O'Kane, 2005)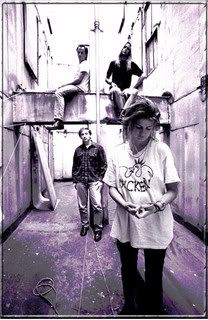 Like Janis Joplin, Jim Morrison, Jimi Hendrix and Kurt Cobain, the dazzling, aggressive front-woman for the early 90s Seattle band, The Gits, died at that seemingly cursed age of 27. However, Mia Zapata, was anything but a rock and roll cliché. Unlike those more famous rock legends, there was nothing self-destructive about Mia's early death. On the contrary, Mia's life was violently ripped away from her in the summer of 1993 and her bloodied body left in the middle of a dark Seattle street. In such cases of tragedy, it can be tempting to romanticize the life that might have been lived, the accomplishments that might have been achieved. But those who know basic rock history and have had the opportunity to listen to Zapata's band can certainly put two and two together and realize that Mia was in the right time and the right place to make quite a substantial impact.
How high Mia's star would have risen is anybody's guess. To be sure, The Gits would have benefited greatly from the Seattle explosion that was about to happen, including Nirvana, Pearl Jam, Soundgarden and all the rest. An Atlantic Records representative appears in the film and tells us that, without a doubt, he had the intent to offer the band a major label contract. Critical response to their first indie album was enthusiastic. Throughout the first half of Kerri O'Kane's documentary, we follow the rise of the band, as they form (taking their name from a Monty Python skit) and play shows at Antioch College in Ohio, then move west to Seattle and set up shop with like-minded friends and musicians in a Capitol Hill dwelling that eventually takes on the name, The Rathouse.
The surviving members share anecdotes about charming dive bars and living as a poor artist. Most importantly, we are given ample opportunity to listen to the band's music through live concert footage. We note Zapata's signature blues-punk vocals and gritty, intelligent lyrics underscored by the hard-charging, skillful musicianship of her bandmates. And we realize that this was no mere grunge band. We realize that The Gits had something to offer the music world that was all their own. Mainstream acceptance and videos on MTV might have been an iffy proposition, but this was a band that was peaking and looked to have room to grow.
The second half of the film details Mia's tragic end at the hands of a random assailant. Without warning, Zapata was raped and murdered while walking home from a favorite bar after spending time with friends who say that she was in high spirits, optimistic about her future after playing a successful solo show. An investigation soon follows, but with no success. Mia's murderer, it seems, has escaped justice and members of the music community begin to suspect that the criminal may be one of their own.
The strength of O'Kane's film, beyond the dynamic subject matter, is how much of a sense we get of the love, respect and admiration Zapata inspired in those around her. We get a true feeling for the community that supported her and the family atmosphere provided by her friends, colleagues and bandmates. O'Kane understands why Zapata is an important figure, but resists the temptation to overstate the case, allowing the music and the memories of loved ones to speak for themselves. Most moving of all is the testimony of Mia's father who naturally provides a very different perspective on her daughter before asserting that "now she belongs to you." The story of Mia Zapata is one that deserves to be heard for many reasons and
The Gits
is both a fitting tribute to her life and a exhilarating celebration of her music.
[***1/2]